HollyHedge Estate Wedding Photographer
I've photographed over 200 weddings at HollyHedge Estate.
Located in New Hope, I take advantage of the venue's rustic chic decor and unsurpassed natural beauty in my photography.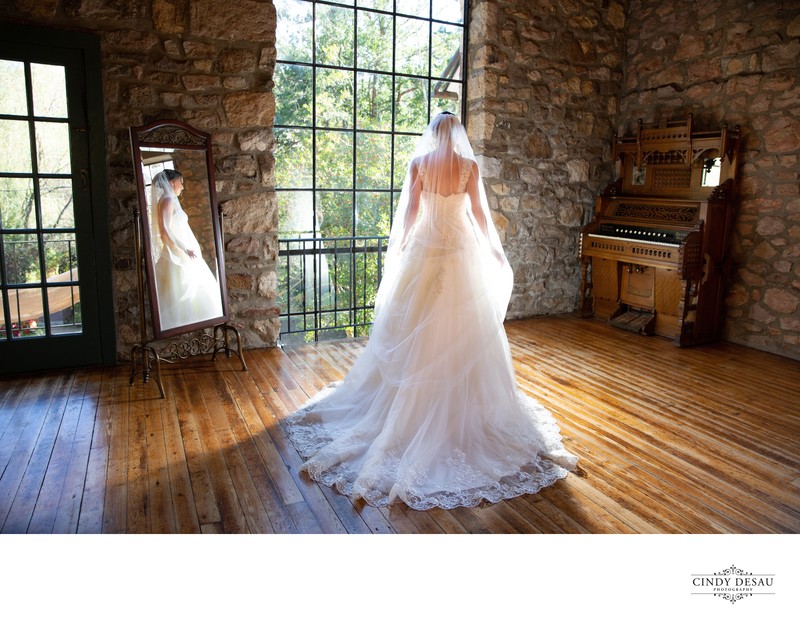 THE COURTYARD
The brick courtyard, with its ornate antique iron gates, the beautiful fountain depicting the Three Graces and the historic stone barn are all picturesque photo backgrounds any time of year. When I photograph your wedding, we'll take advantage of those locations.
One idea is you can ask your florist to decorate the fountain in your wedding day colors. Then, when I photograph you and your fiancé at that location, it will create a beautiful focal point.
The stone barn has huge windows that let in amazing light and are a photographer's dream. You may have seen more than a few of those photos in my portfolio. I've taken many gorgeous bridal portraits in that window light.
The barn also features a stone fireplace and a second-floor balcony. For the fireplace, I will make sure that you are provided with a visual memory of the venue that you both chose so carefully.
I've been fortunate to be a recommended wedding photographer at HollyHedge Estate for over 15 years. I've come to know this venue in every season and every weather scenario. I know the great spots for light and location in every season and time of day. Yet even though I know the special spots of this venue so intimately, I always approach every wedding as unique. Because it is. My goal is to make each wedding I photograph perfect and distinctive.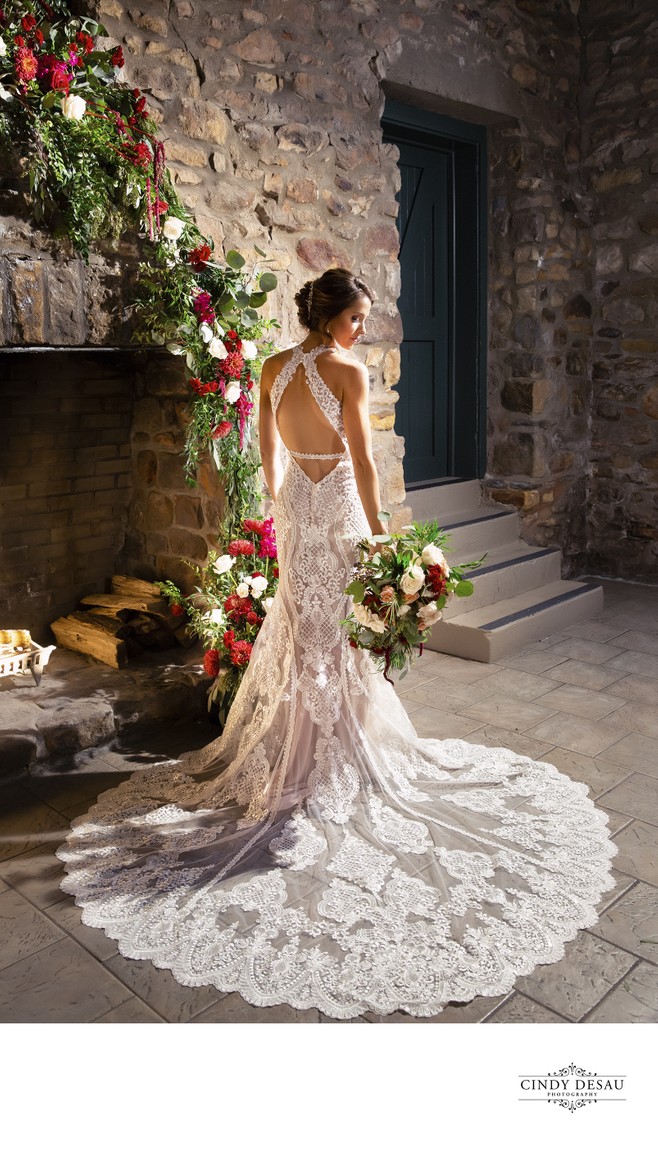 THE POND AREA
There are many different ways I approach photos here. I can pose the couple with the pond and fountain behind them. There is also a cool statue visible from this vantage point, and early in the day, rays of sunlight filter through the trees behind the statue for magical morning light. I can also walk over to this area and shoot placing the Inn behind my subjects. Another secret to photographing at HollyHedge: If I have the fountain turned off I can create an image of the bride and groom with their reflection in the water. How pronounced the reflection is depends on the light and time of year. Some of my fall reflection photos are so vivid. If you happen to tour or book HollyHedge and are in their Sales office, you can see one of my framed 16x24 prints depicting a reflection hanging on the wall.
There is also a rustic bridge that couples and bridal parties can use, as well as a gazebo whose top is wonderfully covered in moss. And do you know about the ferns? From June until about August, there is a beautiful wash of naturalized ferns that appears and is a visually luscious spot for your wedding photographs. I've noticed that every year the ferns become more plentiful. This spot is just on the other side of their naturalized pond and also on the way to the very special Hobbit House. Ah, the Hobbit House! Some of my favorite photos were taken at this romantic little gem in the woods. In the fall the sun sets just behind this adorable cottage, and you can see some of those pictures I've taken here.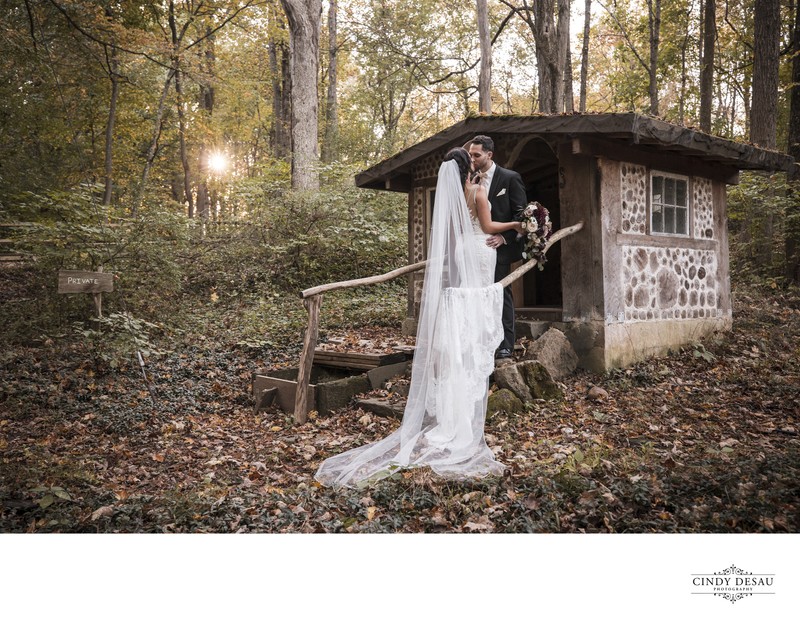 There's a creek that flows near the front woods that borders the meadow, an area where ceremonies can be held or bridal portraits taken amid the tall trees.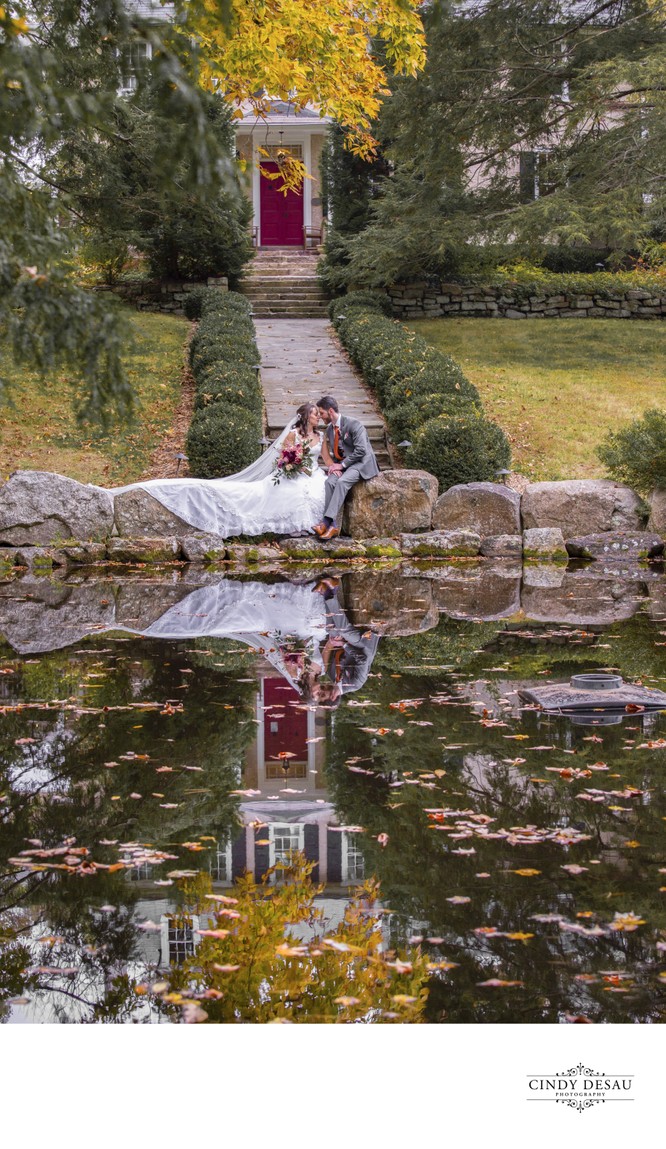 OTHER AREAS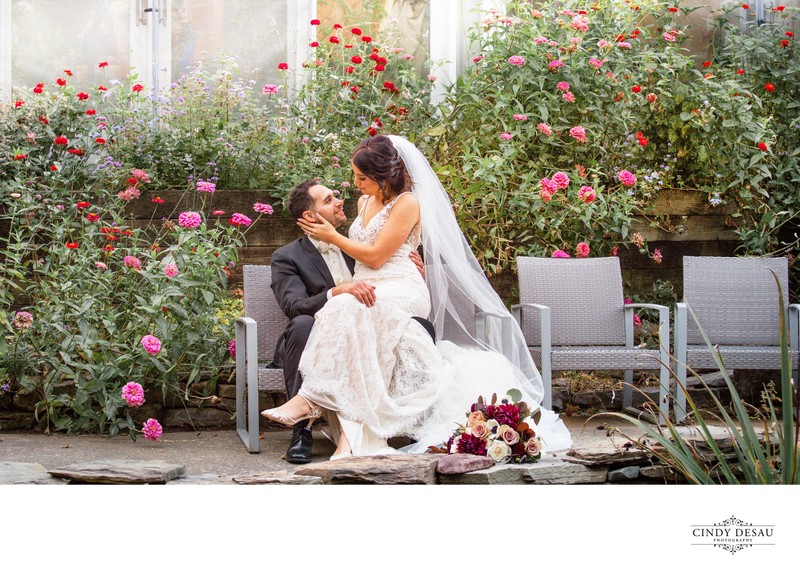 Behind the Inn is a seldom-used area with a huge fallen tree where I like to pose the couple with the bride's train cascading down. There are also tall grasses, perfect for having the couple walking through the grass or embracing. Some wonderful pictorial photographs can be made in the area behind the Inn and also beyond the parking lot, an area known as the field. Every August, yellow wildflowers populate the back fields. White Queen Anne's Lace flourishes throughout the summer. And in November, the pampas grass makes for a vivid fall landscape. I've found field locations to be very popular with brides the past few years, as I think a lot of couples are looking for organic, natural moments in nature. My couples often say they like my unposed-looking photos and these outdoor areas at HollyHedge are great for creating natural moments.
On the way back from the field I sometimes use the back of the old barn with its wooden wheel and the tall grasses by a huge tree. The doorway and window of the back of the barn can be interesting, too. As are the green doors on each side. This old barn never ceases to amaze with all the photo opportunities!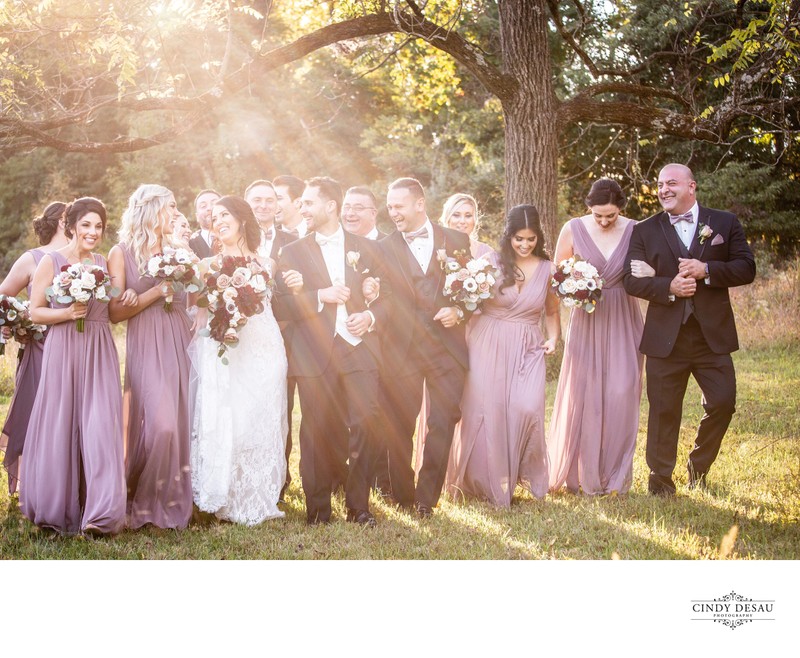 THE OLD BARN
I usually start my bridal portraits in the old barn using the natural light of the large windows. Sometimes I also add an off-camera flash. By starting with the bridal portraits inside I can guarantee perfection of the pose and dress before the bride ventures off into nature for outdoor poses or the first look. The vast majority of my couples do a first look so they can utilize all this venue has to offer in a more relaxed way.
The balcony inside can be decorated in so many styles. I've seen roses hanging upside down so when guests look up they're surrounded by beautiful blooms for a stunning visual effect. During the Holidays grapevine garland, curly willow and branches with votive candles dangling provide such a warm, inviting ambience for your ceremony.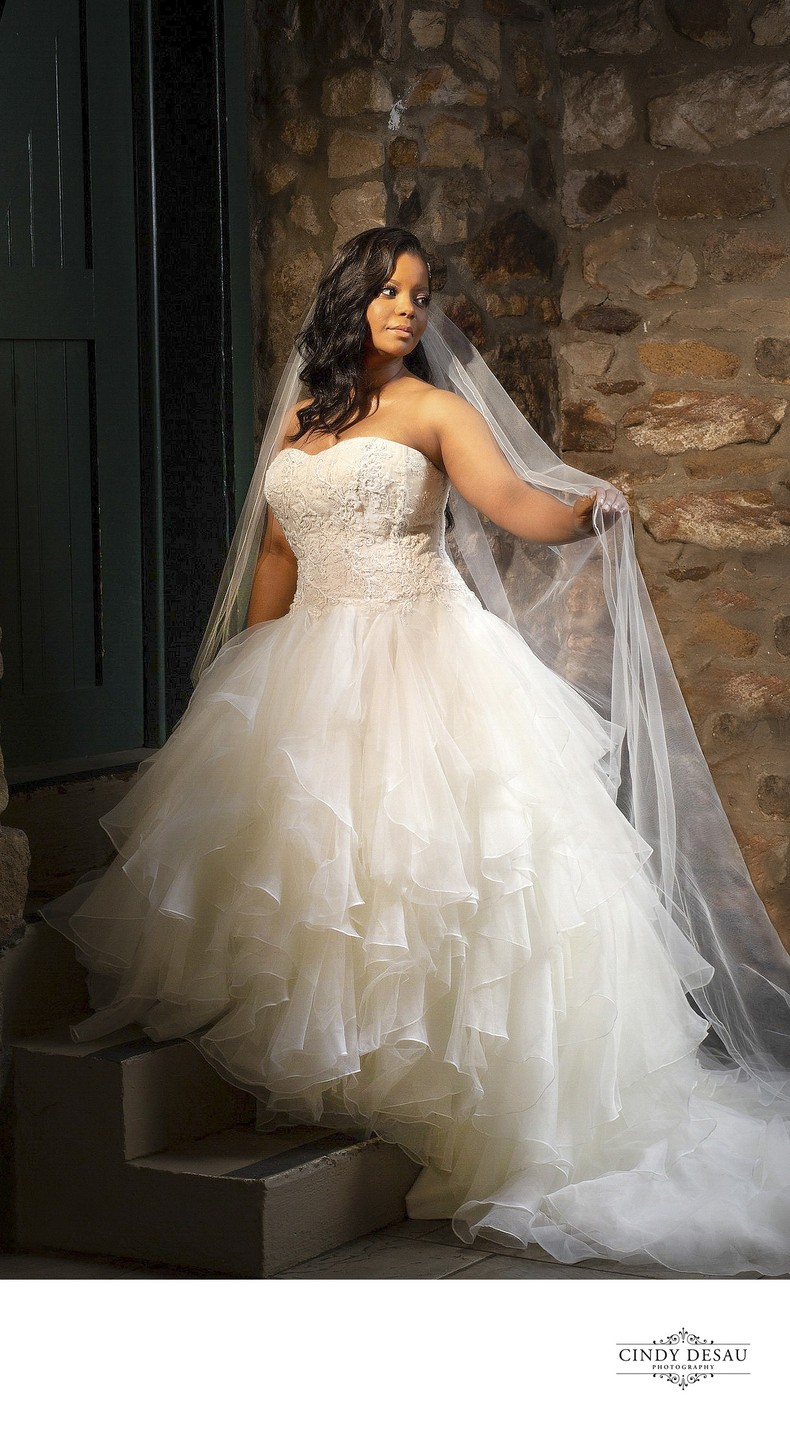 There are other great spots as well, utilizing such things as boulders, walls, fairy lights, the outdoor bar area built using reclaimed lumber, a pergola area - just so many places for incredible wedding day photos.
CEREMONIES
The courtyard is extremely popular for ceremonies.
Clients have a choice of which direction to hold their ceremony in the courtyard, and I've seen all four directions used, although the two most popular are with guests facing the old barn and facing the stone alcove, which is in the direction of the reception barn.
Ceremonies inside the stone barn are lovely and intimate, especially by candlelight. The focal point is the large utterly gorgeous orig0inal stone fireplace. There is also upstairs seating for guests. I've seen the groom and groomsmen enter either by coming down these stairs or from the back of the barn beside the fireplace. Inside or outside it is a wonderful place to be married.
Lately brides have been choosing the meadow in front of the house for their ceremony. What a grand entrance when the bride has her processional down that long walkway!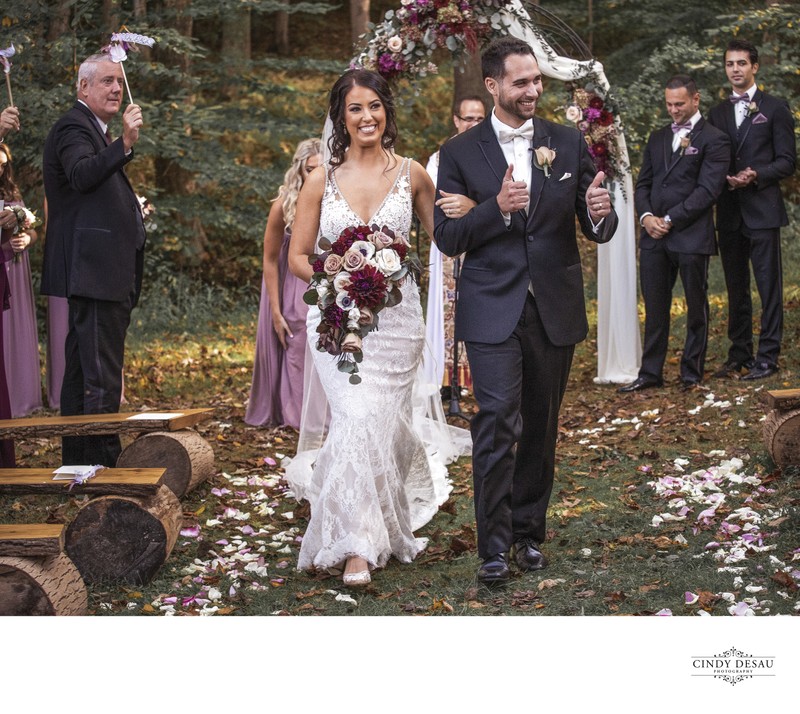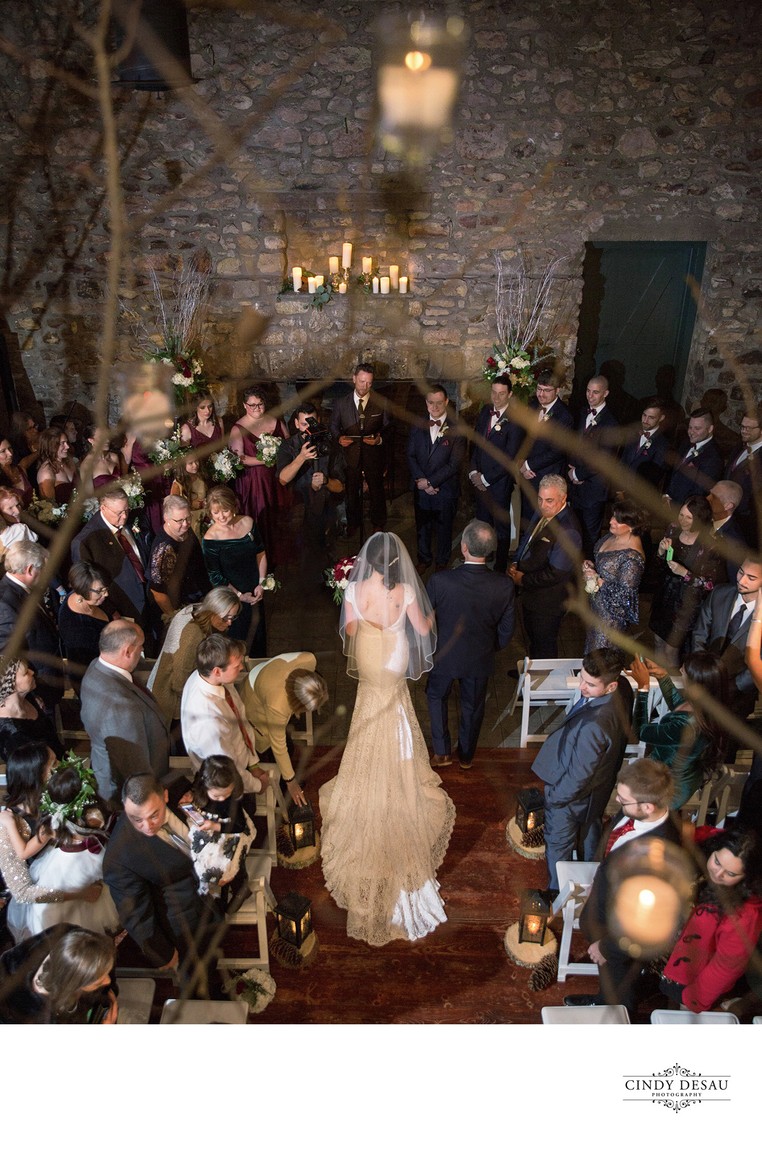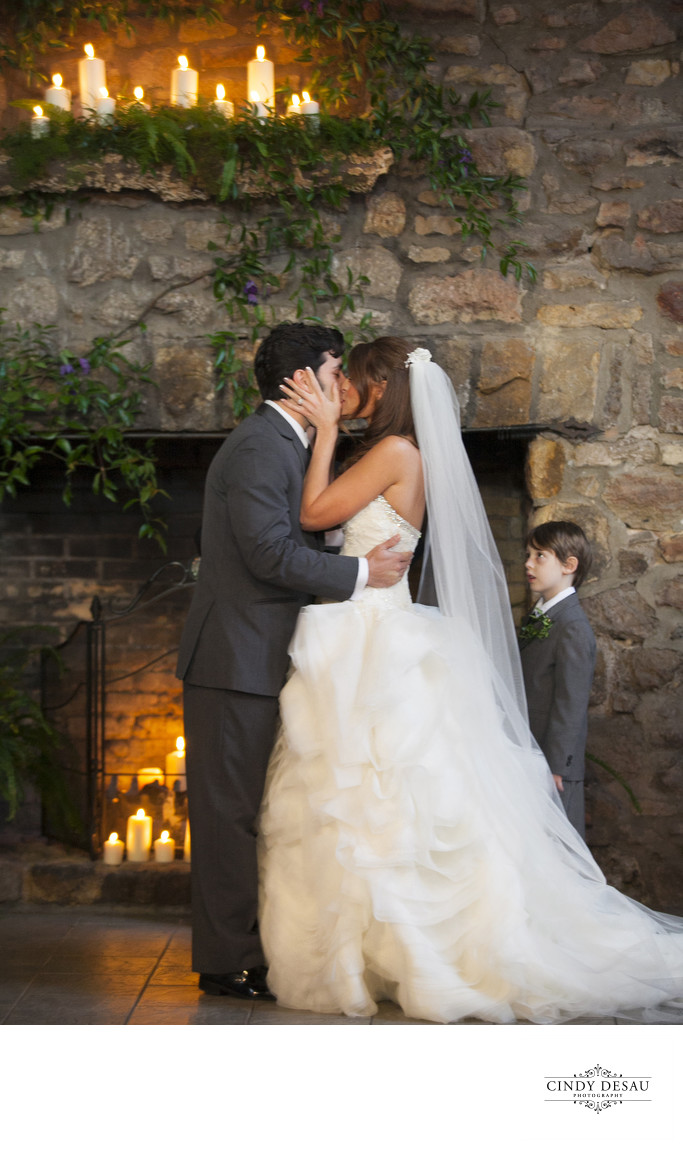 COCKTAIL HOUR
Cocktail hour is typically in the old barn as well as out in the courtyard. Stations are set up by the fountain, the perimeters of the courtyard, and also inside the barn. I've seen mashed potato stations, pasta and sushi stations, cheese + charcuterie stations, Mediterranean, you name it. HollyHedge is known for its fine cuisine. There's also a second bar located outside called the "Three Seasons Bar" under a covered pavilion made of reclaimed lumber from Bucks County barns.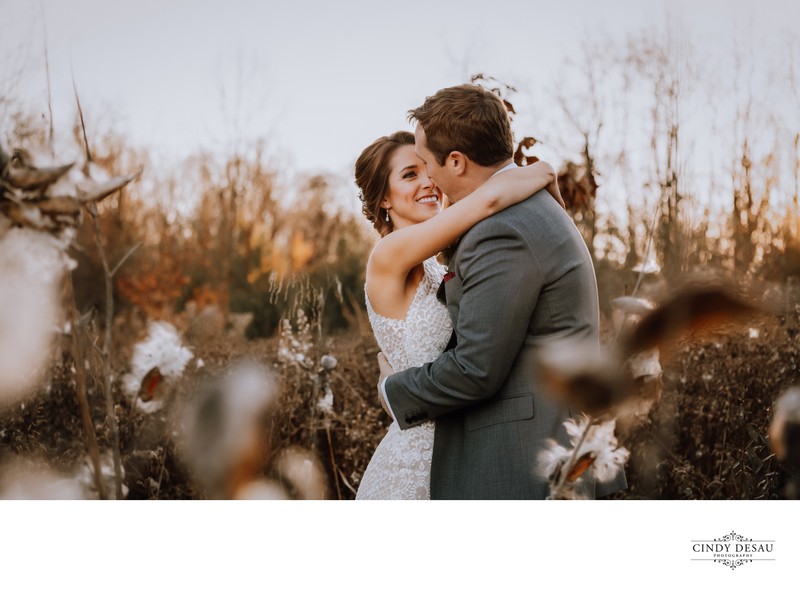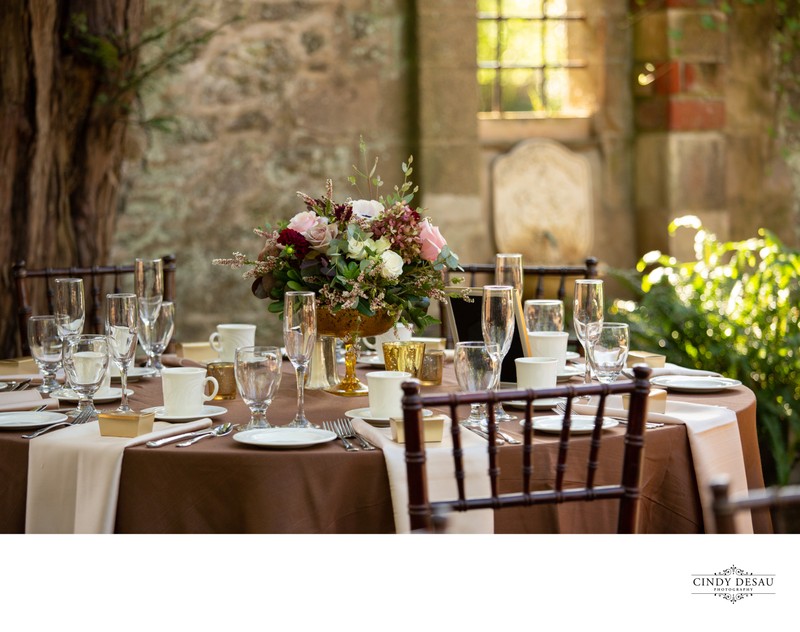 RECEPTIONS
Receptions are typically held in the new barn and can accommodate up to 200 guests. The back wall is stone, and the ceiling has wooden barn trusses. A beautiful antique bar runs along the opposite side. HollyHedge offers award-winning cuisine using local ingredients from not only local farms and vendors but from its own on-site organic gardens. The HollyHedge staff works with each couple to customize and create its own wedding day menu. There are also child-friendly menu options, and the chefs are prepared for any allergy or diet restrictions you or your guests may have. They even have their own pastry chef who can create your amazing wedding cake. Farm tables are also a very popular option. The staff can assist you in renting these long tables.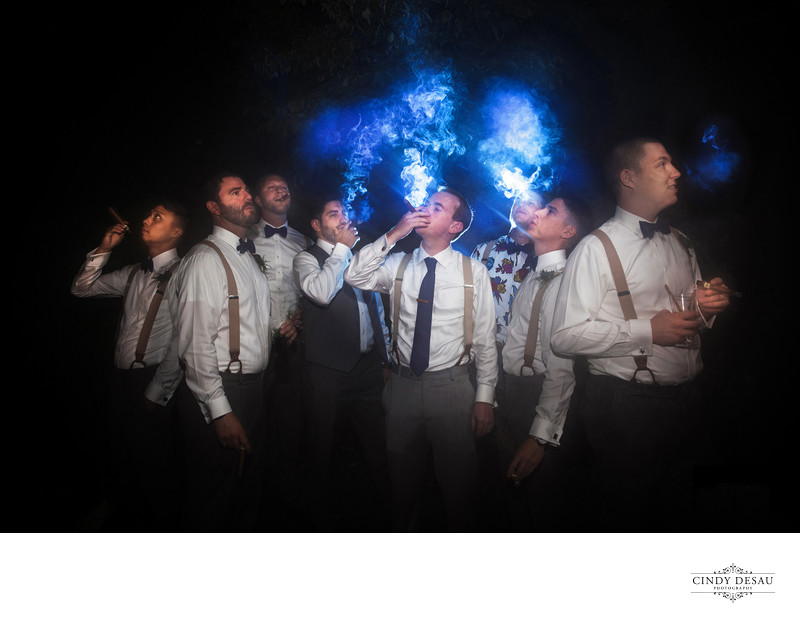 If you book HollyHedge, your wedding would be the only wedding happening there that day. This beautiful magical place is all yours. Another huge bonus in the wedding industry.
ACCOMODATIONS
HollyHedge offers a bridal suite for the bride and her attendants to get ready. There's also a new groom's suite in the main house, and some grooms prefer to get ready in the Honeymoon Suite or other rooms on the property. Many options are offered.
The Inn has 15 rooms available for overnight stays for your guests. For larger weddings, another 24 rooms are available at HollyHedge's sister inn, the 1740 House, four miles up the road in historic Lumberville. A trolley is provided to shuttle your guests from the 1740 House to the wedding and back at the end of the night.
WEDDINGS OF ALL SIZES
I've photographed some very intimate weddings at HollyHedge, where the reception was held in the old barn. I remember first seeing it set up for a reception, pin-lights shining on centerpieces, and thinking how perfect and magical it all looked. It has an incredible and even enchanting atmosphere. I've photographed receptions of 20 guests, and I've even photographed a wedding (held on a weekday) where it was only the bride, groom, officiant and myself! There can be a minimum depending on the day of the week and time of year. I also photographed many Micro Weddings there in 2020.
SUSTAINABILITY
Besides supporting local growers and farmers by buying locally sourced ingredients, HollyHedge grows a lot of the fruits and vegetables it serves to its guests and also grows its own herbs and flowers. Rainwater is collected in barrels that help irrigate the crops and reduce run-off and erosion. Left-over cooking oil is recycled into bio-diesel fuel. HollyHedge also has on-site composting for fruit and vegetable scraps as well as coffee grinds and eggshells, and left-over food scraps are saved for a locally-based hog farmer as food for the livestock.
Native grasses and wildflowers flourish on the grounds, and these lush fields are perfect spots for beautiful photos of couples and wedding parties. These native wildflowers also support pollinators and wildlife and help the environment as well as looking beautiful. You'll see a few goats in the back fields as well. But be careful! The goats love bridal bouquets!
HISTORY
HollyHedge Estate dates back to the late 1700's, when a carpenter named Watson Fell began building the old barn and several other buildings that still stand out of locally quarried field stone and hand-hewn timber. The Fell family lived on the property for about a hundred years, and then it changed hands several times. For years the property was a working farmstead and then it was a private estate. In the 1960's it became a school for the performing arts. What a great environment for music, theater and art!
The school eventually closed and the property changed hands several times before falling into disrepair. Finally, the Luccaro family purchased HollyHedge Estate in 1994 and has worked tirelessly to preserve and restore the historic buildings and transform the property into the spectacular and unique wedding venue it is today.
When you have your wedding at HollyHedge, it's your private estate for the day. The staff will work with you to create the wedding you've always wanted, and I'll work with you to create your wedding day timeline, leaving ample time for relaxed portraiture and wedding day photos you'll forever treasure.
HOLLYHEDGE ESTATE WEDDING COST
HollyHedge includes 5 hours of event time, but this does not include set up and clean up times. There is a set-up fee of $5 per person when you have your reception at HollyHedge. Packages range from $140-$175 per person, and this is seasonal. You can also schedule a two-hour After Party in the old barn. See HollyHedge's excellent wedding coordinators Michele, Meredith or Gabbi for more information on pricing and customizing your special day. They are also now offering intimate weddings on the courtyard as well as elopements.
HollyHedge is located at 6987 Upper York Rd, New Hope, Pa., 18938, between Peddlers Village and the Delaware River. 215-862-3136
HollyHedge Estate is a rare gem in the wedding business.
Check out more of my favorite HollyHedge Estate weddings Here