Be WOWED by your wedding album!
I have a lot of pride in the wedding albums I create and deliver to my clients. You'll be wowed by your one-of-a-kind family heirloom, and you'll relish opening the cover to go back back in time to your wedding day time after time.
Inside this beautiful library-bound leather book are the most beautiful wedding photographs, artfully shot, technically excellent, telling the story of your day. You and your children will love looking back to see how you both celebrated the beginning of your journey together as husband and wife.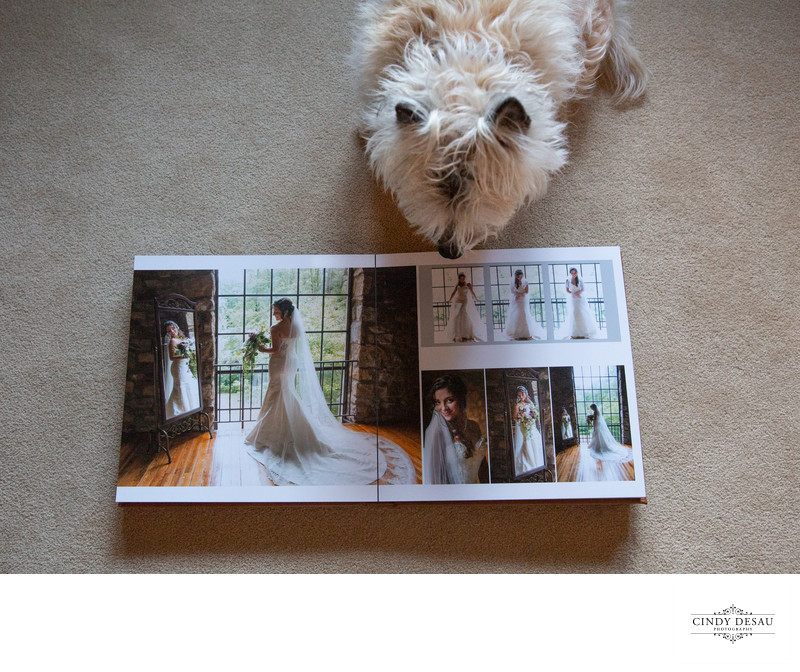 Even my dog Tipper loves to look at my wedding albums!
​
Let me tell your a little bit about my albums.
I use Leather Craftsmen, a custom booking company located in New York, and they've been one of the highest quality wedding albums in the world since 1942. I've personally seen one of my bride's mom's Leather Craftsmen album from the 1960's and it was just like new. They hold up beautifully. They last for generations. They are top quality. And they have options for you.
I include a top-grain leather cover for my wedding albums in my packages, but other options are also available. Even with the leathers, there's a variety to choose from, as well as some speciality leathers. Or perhaps you'd prefer a linen cover, Japanese book cloth or a metallic, natural or fabric weave. So many options!
Photos On the Album Cover
There are unlimited ways to display a cover photo or photos! Both inset and raised outset styles can be done, with a standard photo size or custom. Several small images can be artfully displayed or one large one. Photo Plate and Acrylic are another great option for a unique and special presentation. With the Photo Plate process, the photo is permanently fused to metal and is scratch resistant and UV protected. The Acrylic Covers are a subtle transparent option for the photo of your choice.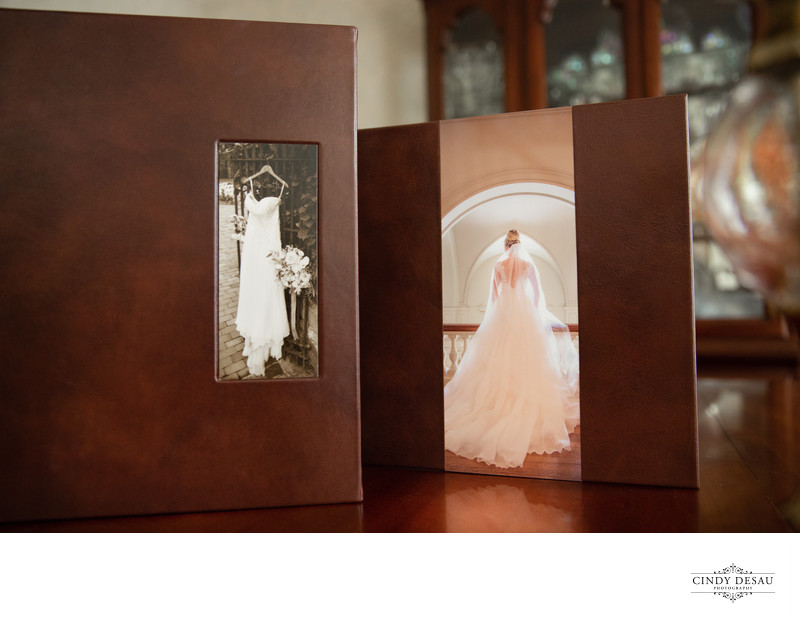 The album on the left is an 11x14 Leather Craftsmen album in Mahogany leather with a warm-toned photo, inset into the cover. The book on the right is a 12x12 with a photo plate image down the center-third of the cover.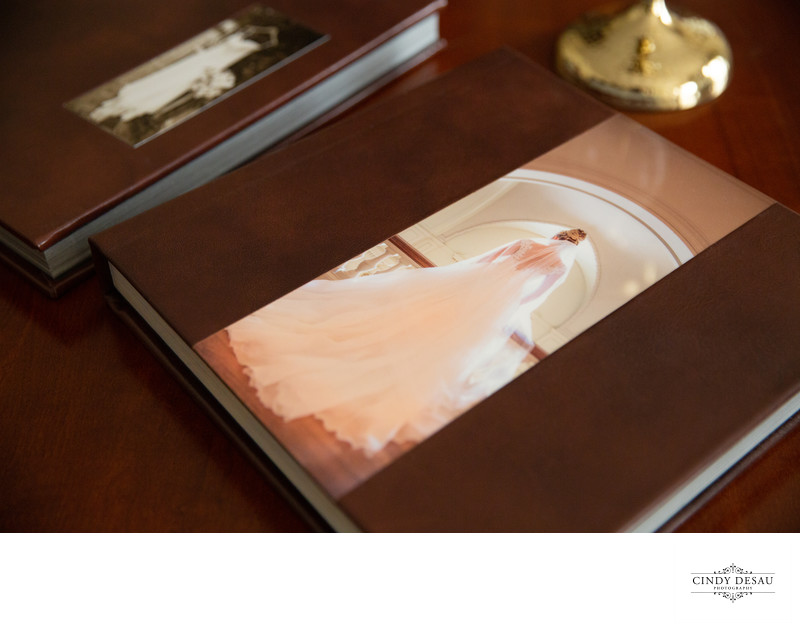 A closer look at the photo plate, which is a photograph fused onto metal.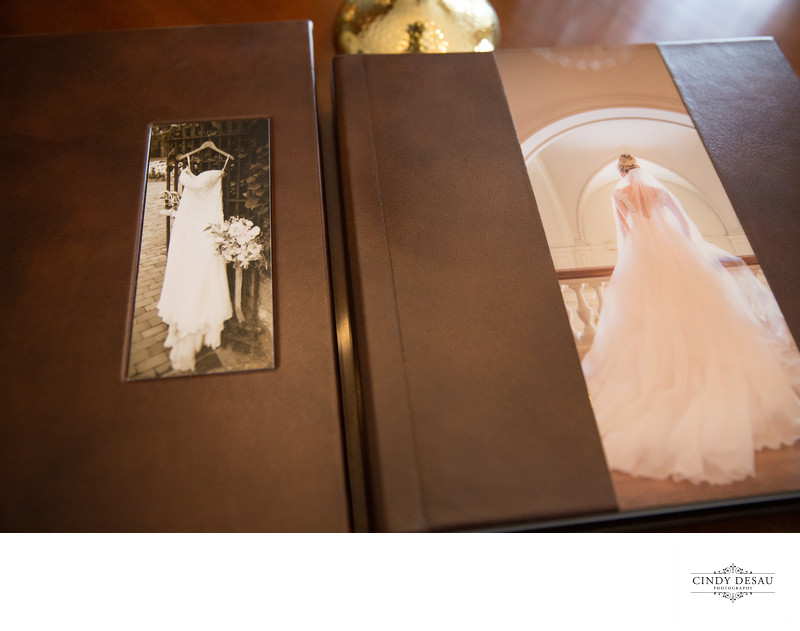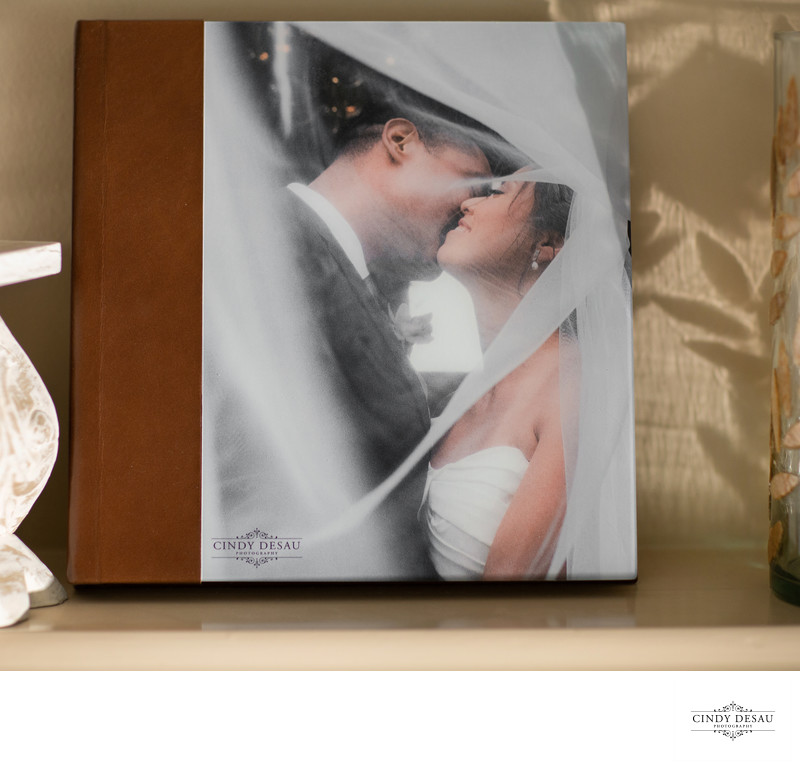 Acrylic Cover: This is an image mounted onto clear acrylic; a very beautiful presentation of your wedding album.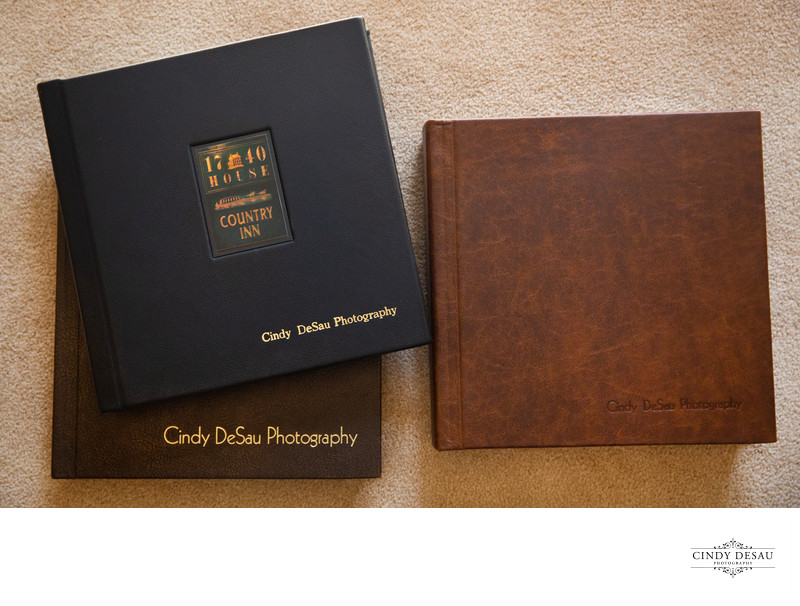 These are 10x10 Leather Craftsmen albums showing different fonts and a cover photo inset in the center. The top left font is italic, the bottom is modern. At right the font is branded into the leather(no color).



Split Tone
A contemporary feel can be achieved by mixing leather, book cloth or a premium fabric in the spine and cover.
Cover imprinting is offered in gold, silver, black, copper, rose gold, red, white and branded(no color). Styles of imprinting offered are italic, old English, block and Modern fonts. Typically the bride and groom's first names with the wedding date below would be imprinted either centered or lower right on the wedding album, but really anything can be done. I put "Best Day Ever" on the spine for one of my sample albums I created for Holly Hedge Estate, and they have that adorning the wall of their Bridal Suite.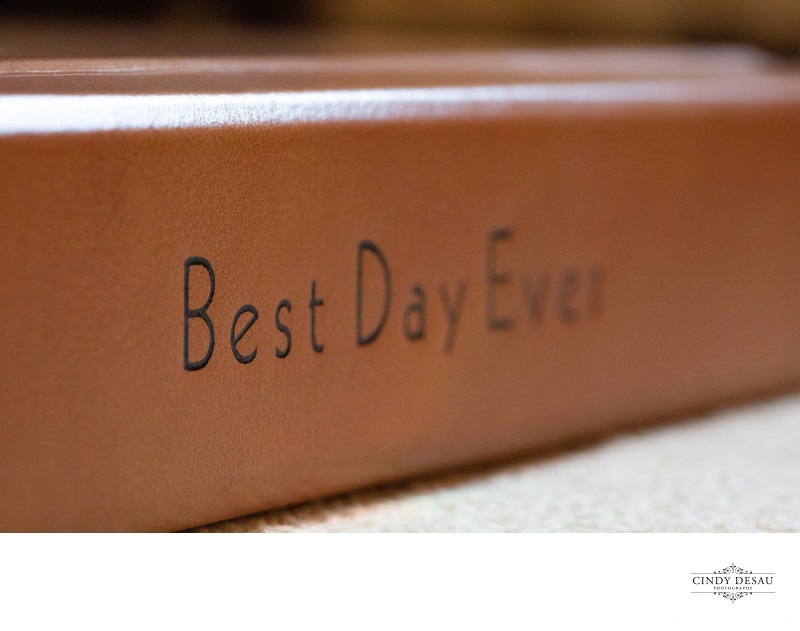 You might want to add a unique or fun saying to the spine of your album, or perhaps your last name.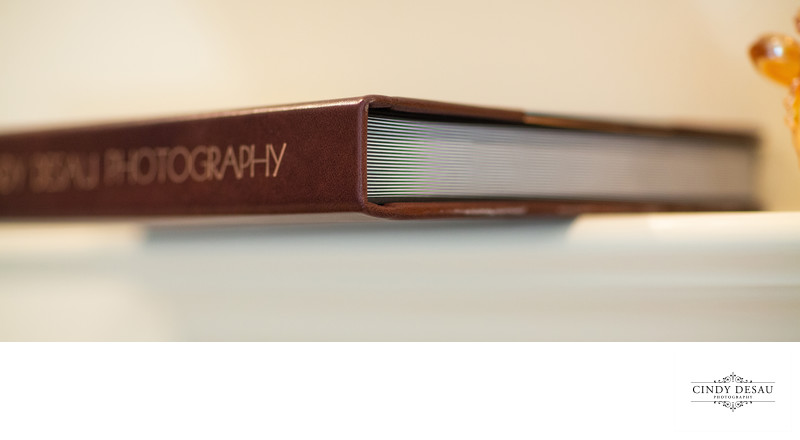 Pages can be gilded in a color or left ungilded, such as the example above. I tend to do black or ungilded.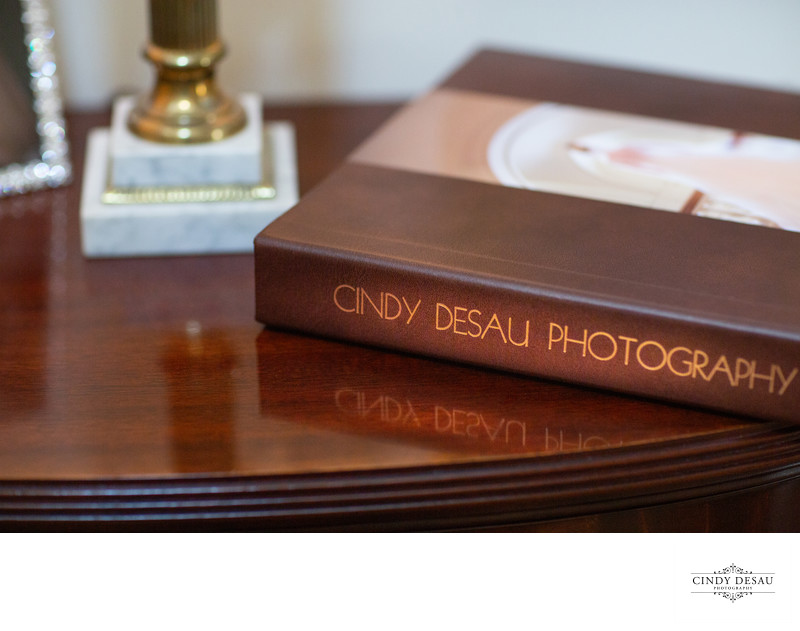 This is Rose Gold Modern font on the spine of the book.
Companion or Parent Albums
I offer many choices for Companion Albums. These are typically smaller in size than the wedding album and can be a clone (an exact layout of the wedding album) or different images may be selected. These vary in price. A Leather Craftsmen companion album may be ordered, and I also offer the Signature Line as a budget-friendly option.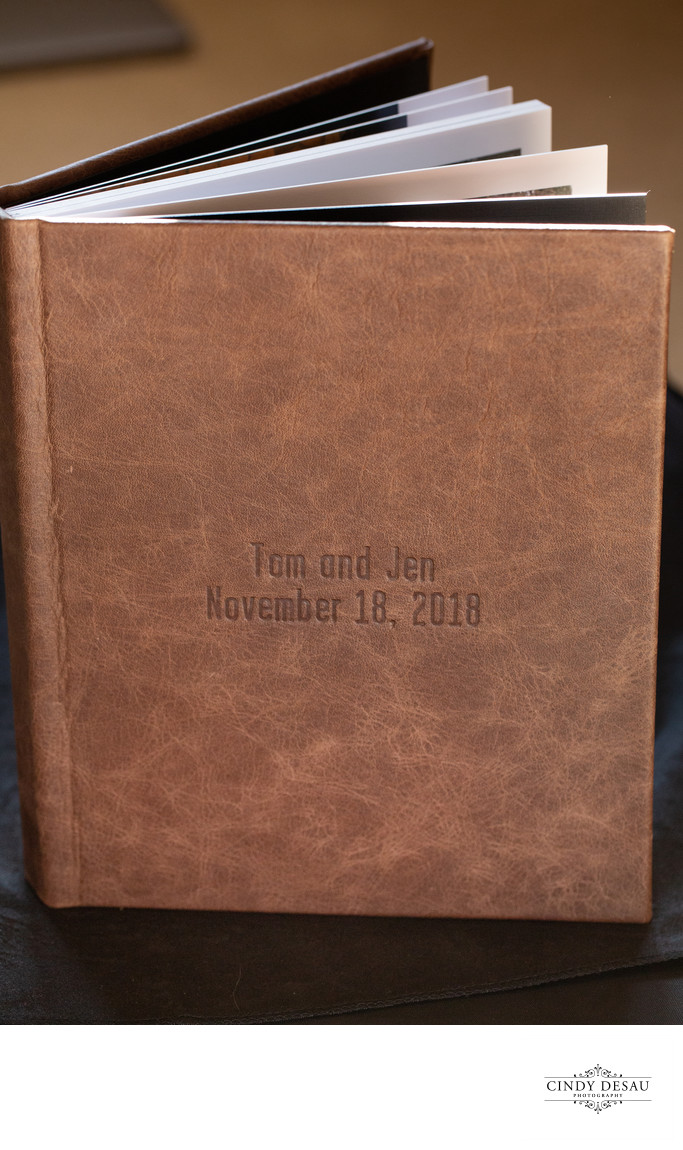 This is the distressed leather in Timber.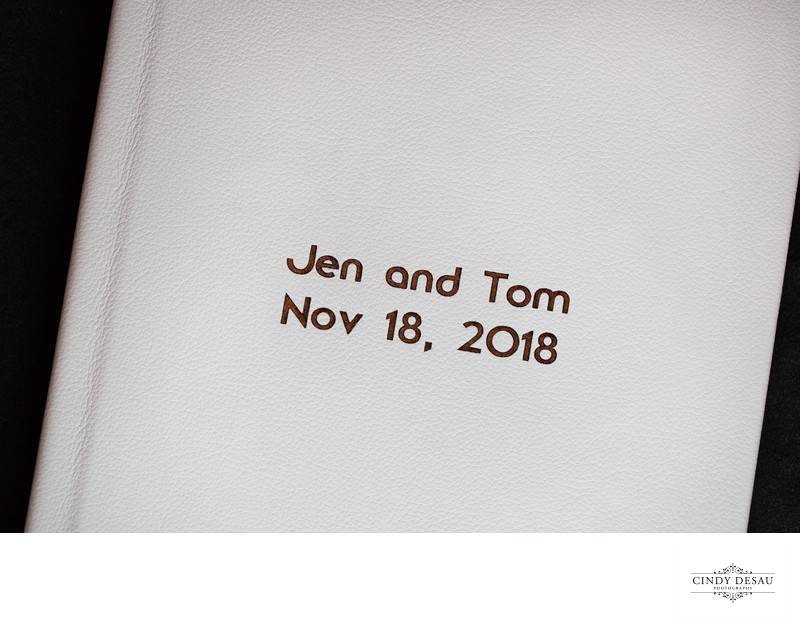 White leather with imprinting of the bride and groom's names and date, centered.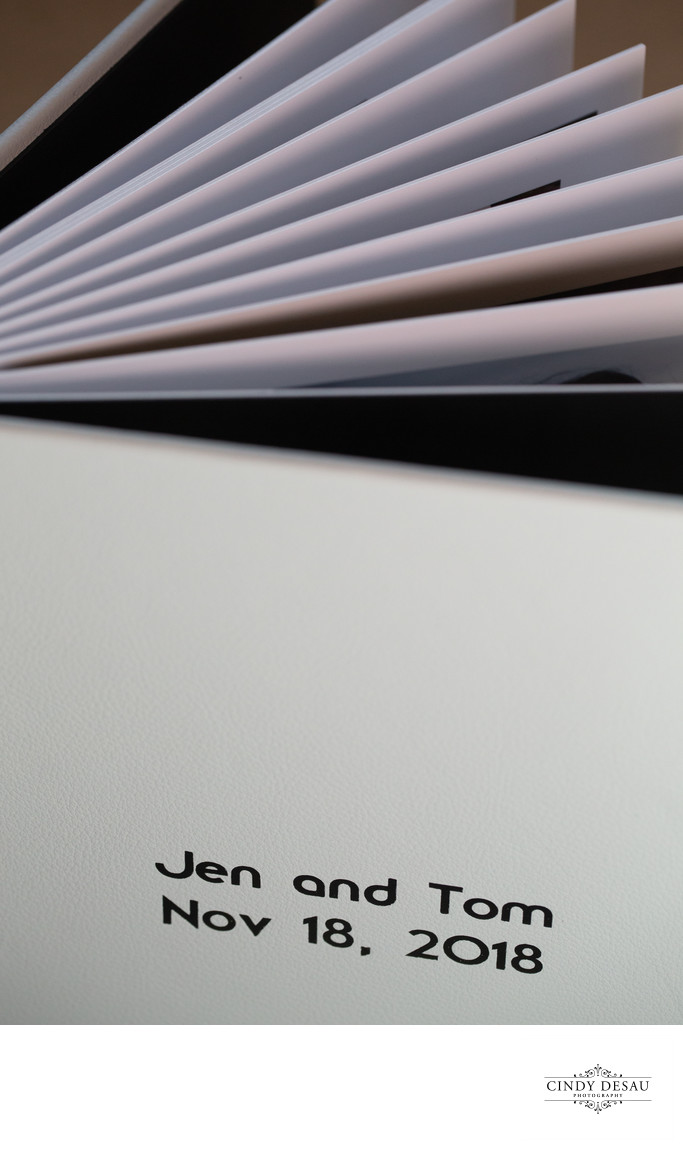 Another look at the Signature line with the pages shown