Cairnwood Estate Wedding Photographer
Dream of Feeling Like a Princess on Your Wedding Day?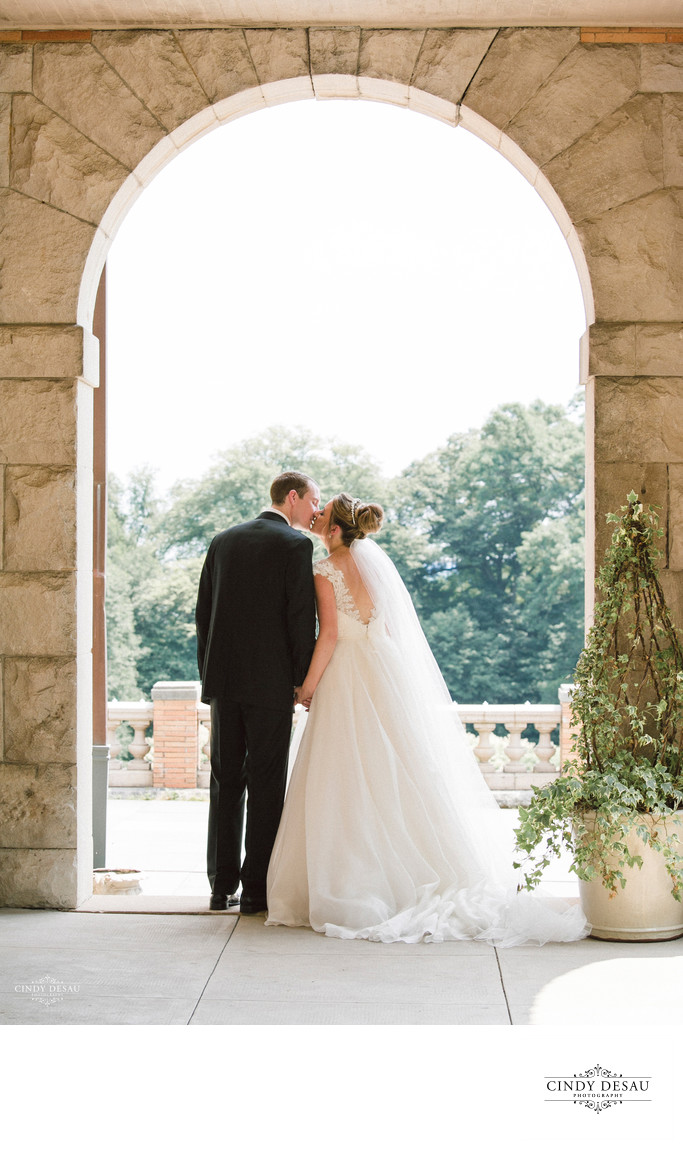 Stone arches, terraces, balconies, gardens, a grand stair case, patios, and a turret!
If you dream of hosting a wedding straight out of the gilded age, getting married in a castle and descending a gorgeous grand staircase for your entrance, Cairnwood Estate in Bryn Athyn, Bucks County, just might be for you!
If you crave a luxurious grand French country chateau for your wedding, consider Cairnwood Estate, the elegant castle on a hill.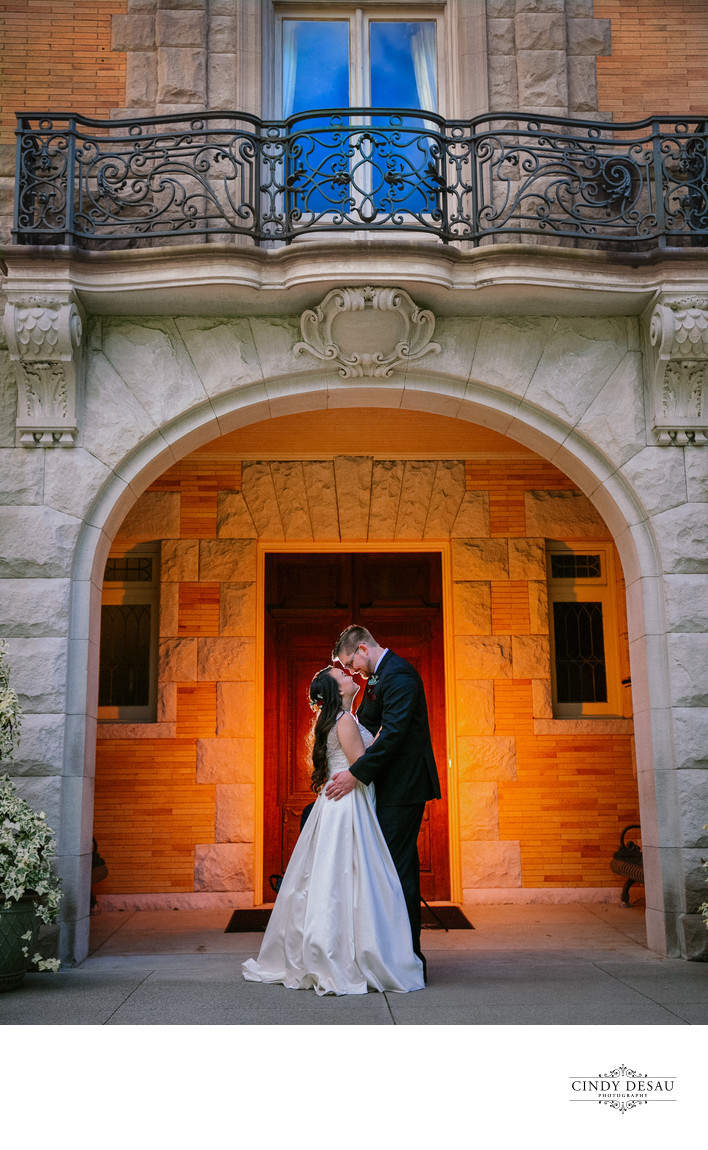 This is the front entrance to Cairnwood.


With its panoramic views of the Bryn Athyn Cathedral and the Glencairn Museum, Cairnwood is a tribute to French Renaissance influences blended with classical Roman and Greek architecture. In other words, it's drop dead stunningly beautiful, an architectural masterpiece from the late 19th Century. It has some of the most beautiful architecture in the Philadelphia area, and it's right here in Bryn Athyn.
History
Cairnwood was built by John Pitcairn, a wealthy industrialist and co-founder of Pittsburgh Plate Glass. He built it as a home for his wife Gertrude and their children. One of their children had Glencairn built as his family home, and both remained in the family until 1979, when both Cairnwood and Glencairn were donated to the Academy of the New Church, a boarding school founded in the 1870s.
Today, Cairnwood is a National Historic Landmark! It was added to the National Register of Historic Places in 2002.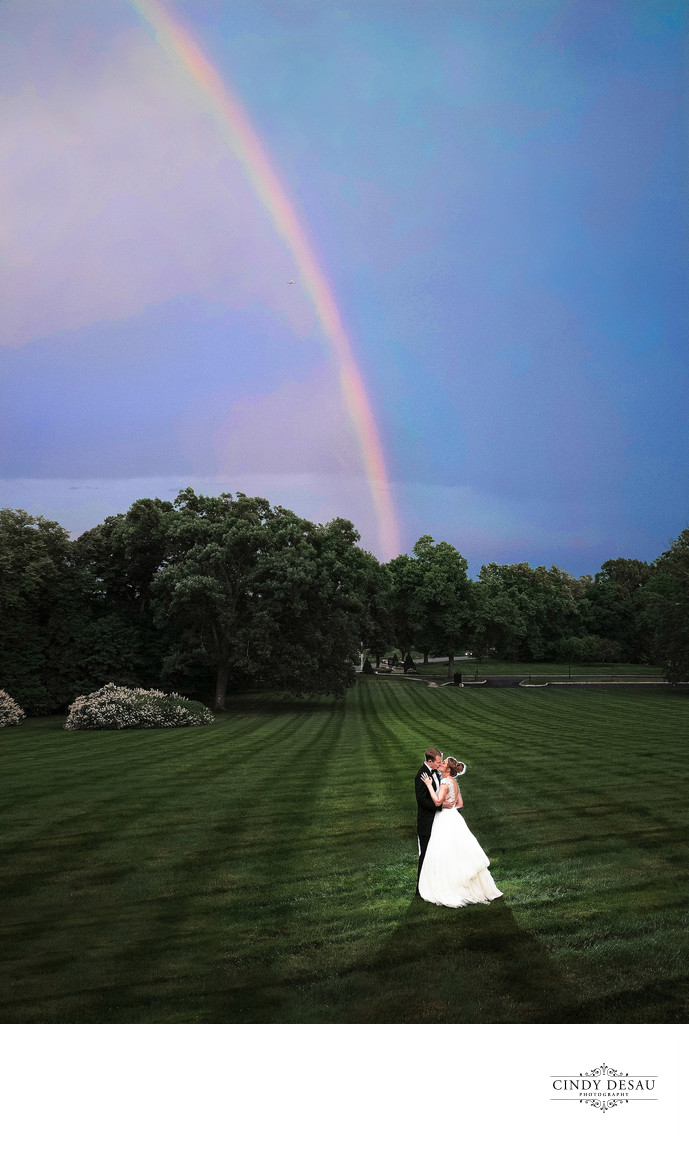 Do you know how rare it is to have a rainbow suddenly appear as you are photographing bridal formals? Yes, this actually happened for us here right on the front lawn of Cairnwood Estate.
If you look closely you can even see a tiny plane in the sky!
Cairnwood has 28 rooms and a chapel in the third story turret. How many reception sites do you know of that have turrets! Cairnwood looks as stunning today as it did when it was built in 1895.
What else does Cairnwood offer? Flowering gardens and expansive lawns give it endless indoor and outdoor possibilities. It has terraces, a grand staircase, gardens and balconies, which look like something out of a movie. It can host sit-down dinners for 200 or a stations-style reception for up to 275. There is no one large room big enough for everybody, so your guests will be seated in different, smaller but adjoining rooms. This can also add to the intimacy or encourage multiple parties in different rooms! Guests will also love how the estate opens up to terraces and patios, giving sweeping views of manicured lawns and perfect gardens.
Tented Receptions
A Lower Terrace 20 x 100 ft tent is available from March to December for an additional fee. A complimentary awning spanning 16 x 32 ft is included with rental from April to October. The management at Cairnwood will help and guide you through the ordering process and will also coordinate the installation. Side walls are included for full use of the terrace in case of rain. Five complimentary chandeliers with dimmers are also included, and there are many other upgrades available as well.
Additional Amenties
Cairnwood hosts only one wedding reception per day. Although historic, it is fully air-conditioned and two luxury dressing suites are provided, and wow, are they stunning spaces! You'll love getting ready in them as much as I love photographing my clients there. Free parking is provided, and the facility is ADA compliant with accessibility. A large variety of hotel accommodations are nearby.
Pricing
There is no minimum guest count requirement. Rental fees range from $1,800 to $8,800 for a reception, depending on the day of the week and time of year. This includes five hours of event time, though set up and clean up time is offered at no additional charge. Additional hours can be added at $500 per hour.
Pricing for Tent Rentals
White Tent
The white tent package is $3750, and is available April through December. This includes a 16 x 32 ft. white top awning for the Upper Terrace and a 20 x 100 ft. white top tent for the Lower Terrace.
Clear Tent
The clear top tent package is $4750 and is available April through May, and September through November. This includes a 16 x 32 ft. white top awning for the Upper Terrace and a 20 x 100 ft. clear top tent for the Lower Terrace.
Awning Only
A 16 x 32 ft. white awning for the Upper Terrace is included in the Estate rental from April through October.
Other Options for Tent Rentals
Temperature controls
Tent Heater: $275 per heater. Six are recommended for winter events.
Patio "mushroom" heaters for the veranda are $150 each, with 2 or 3 recommended in cooler weather.
Pole fans are $600, and 10 fans are in a "package."
Fabric Draping
Rib Draping: fabric covering the steel of the tent ceiling.
Billowing Side Walls: fabric covering the walls of the tent.
Ceiling Liner: a fabric liner for entire tent ceiling. This is $3800, and you may combine this with the billowing side walls for a total of $5450.
Uplighting and Market Lights
In addition, a variety of lighting options are offered throughout the property whether it's inside the Estate, inside the tent, on the terraces or in the fountain garden.
Cairnwood is not only available for wedding receptions but photo shoots such as portrait or engagement sessions. Both the Estate grounds and interior rooms can be utilized for some dramatically awesome images. Photo shoots are $350 for one hour or $500 for two hours. Reservations are a must.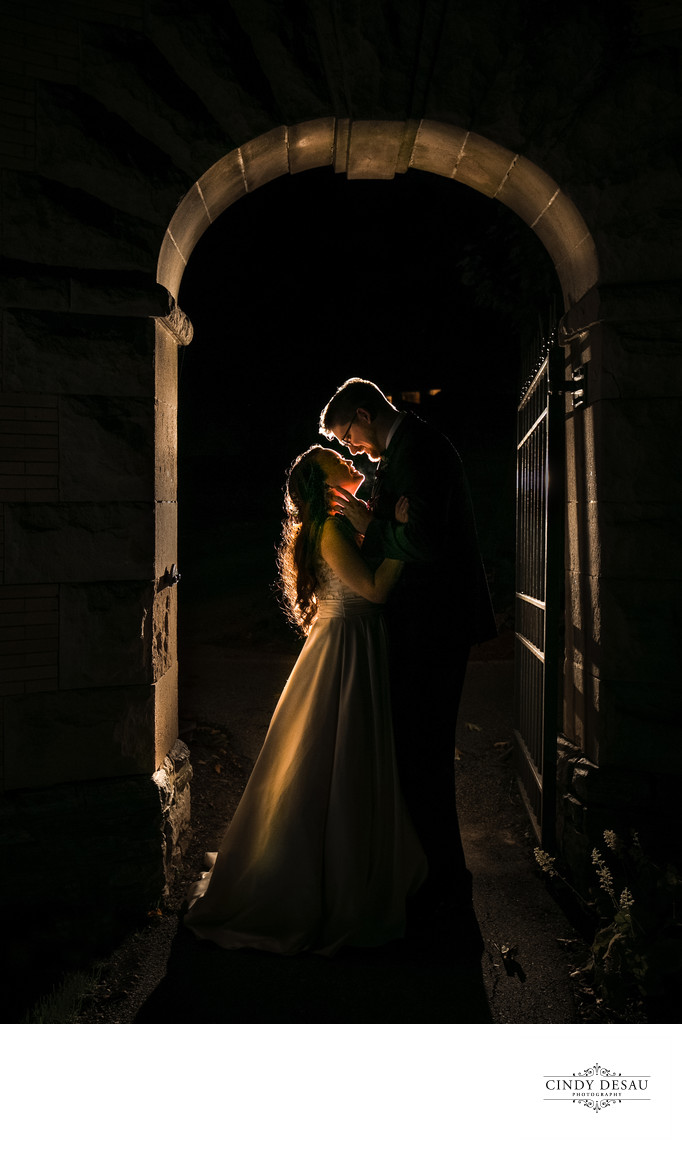 The arch and gate at the end of the drive are also great spots for that end of the night artistic shot.
Here I used a flash behind the bride and groom to give them that beautiful glow of light.