Pearl S. Buck Estate Weddings
Pearl S. Buck Estate Wedding Photographer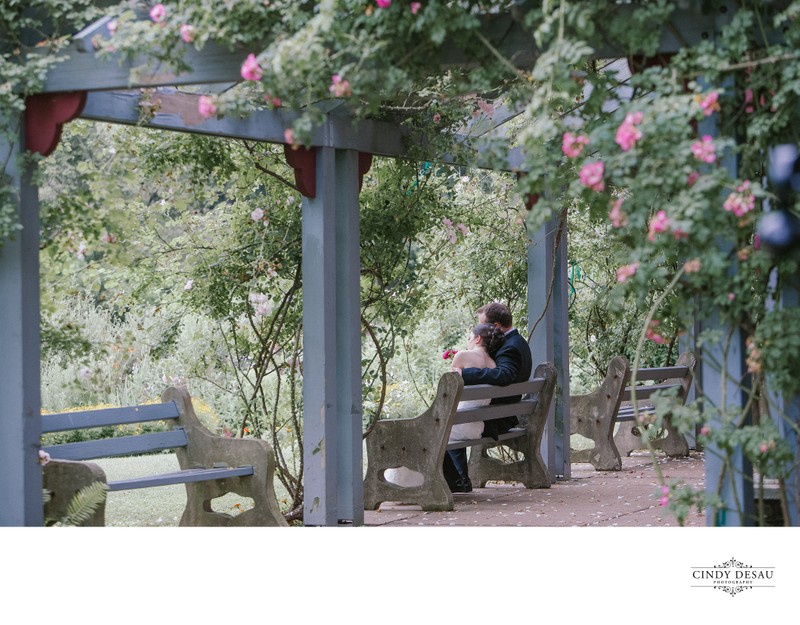 Cascading roses covering a huge pergola is a great setting for some romantic and soft wedding day portraits.
The Pearl S. Buck Estate is a favorite wedding venue in Bucks County, and it's also a National Historic Landmark. It sits on 68 picturesque acres with manicured lawns, gorgeous gardens, and historic stonework, all which create a very romantic setting for your special day. Its conveniently located near New Hope and Doylestown, and is close to lodging, restaurants and quaint shopping for your guests.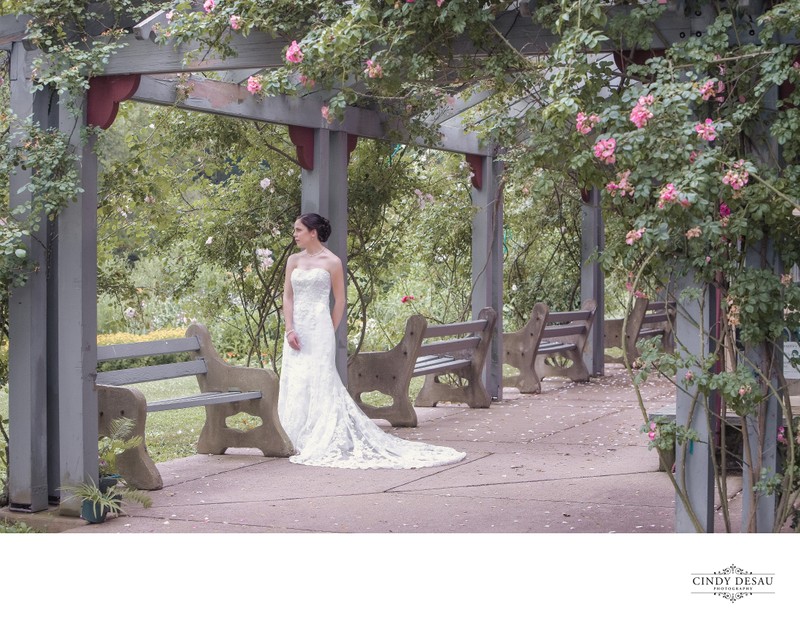 Brides love this location at the Pearl Buck Estate for some gorgeous photos with flowers cascading all around them. The bridal suite is located in this building as well, so it's also a private spot to take some photos before the ceremony or before their first look with the groom.
At Pearl Buck, multiple rooms and settings are available for you to use. There's the bridal suite, multiple paths and places for first looks, and a truly lovely setting for your outdoor garden ceremony. If you prefer indoors or it happens to sprinkle the day of your wedding, it's good to know there are indoor options in the modern barn. I've also photographed wedding ceremonies in the Estate Pavilion. Cocktail hour is magnificent out on the slate patio surrounded by well-tended gardens and Pearl Buck's beautiful stone home. These gardens, the expanse of lawn, water features, the rustic house and a LOT of unique stone archways and other hidden jewel spots for wedding photographs make it a treasure in more ways than one. It's an inspiring locale for artistic and creative wedding photography.
Jamie Hollander Gourmet Foods & Catering handles the catering and events at Pearl Buck, so reach out to them to discuss your wedding plans or to tour the property. They are very experienced in fine food and fantastic events, and will help guide you with the flow of your day and to help create the perfect wedding for you.
Contact Kate Conaway at 215-622-8195.
Wedding Ceremonies at Pearl Buck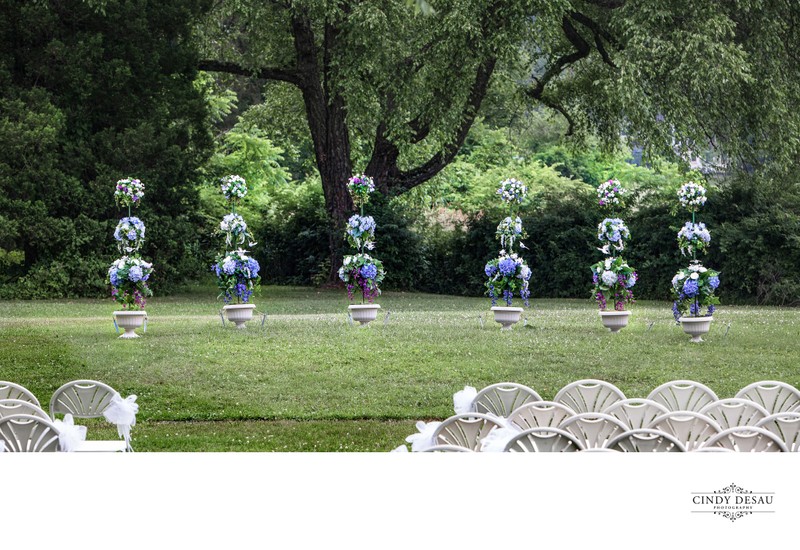 A ceremony setup on the expansive lawn, with a topiary floral display.
I've photographed Pearl Buck Estate ceremonies out on the beautiful manicured lawns and gardens. They can also be in their Estate Pavilion or barn if it should rain. There are many set up scenarios for the outdoor ceremonies, and all offer wonderful views. Guests can enter the lawn for ceremonies through the historic and picturesque trio of impressive stone archways. Cocktail hour is held on the beautiful slate patio surrounded by perennial gardens, and can spill out onto the lawn. Guests also have the option to tour Pearl Buck's home during the relaxed cocktail hour.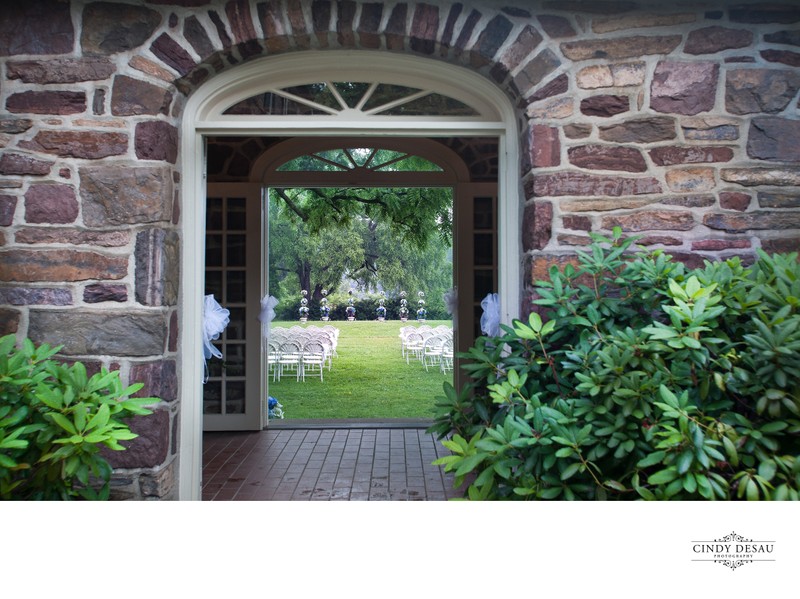 A closer view of the indoor space under the arches. Most processionals gather and start here.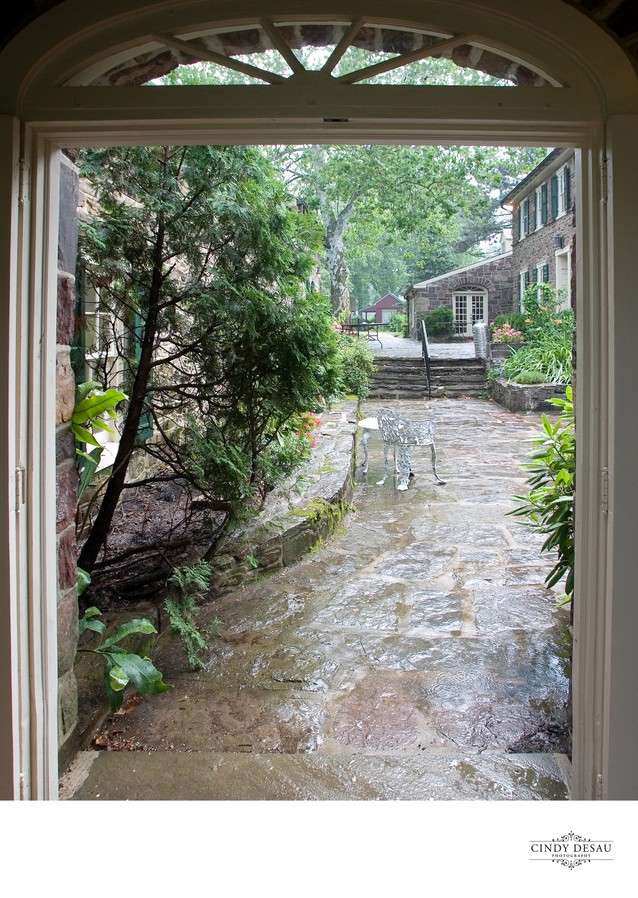 This is the opposite view that shows the slate patio beside Pearl Buck's home, and a long view of the cocktail hour location. The patio area past the steps is very wide and steps down onto an expanse of lawn where tables and chairs can also be set up.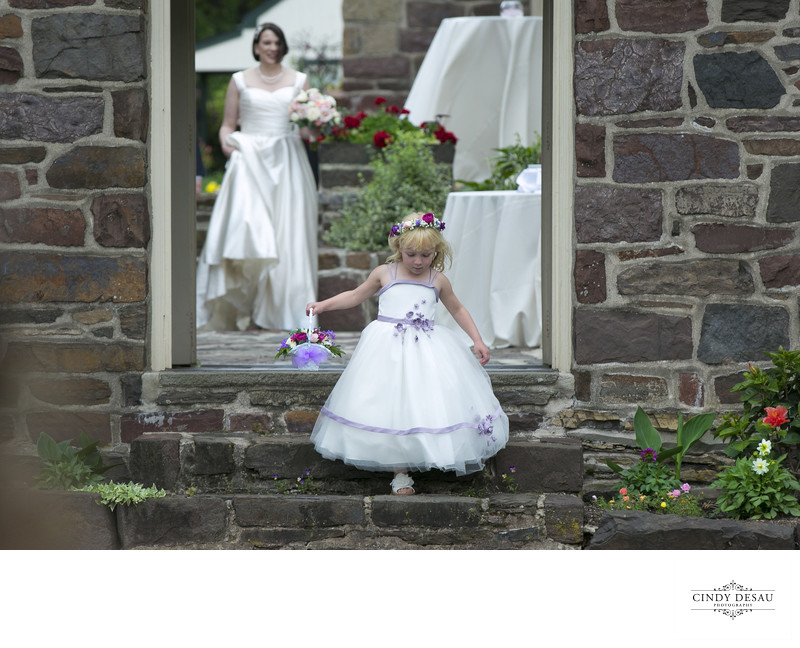 A bride and her flower girl enter through the arches during the processional.
Pearl Buck Wedding Receptions
Receptions are held in the Estate Pavilion, with options to upgrade the tented ceiling to clear. Dancing under a clear tent and seeing the stars above is awesome. The Estate pavilion can host up to 300 for dinner and dancing. Historic stone archways and a rustic greenhouse all provide great backgrounds some really cool creative images on your wedding day.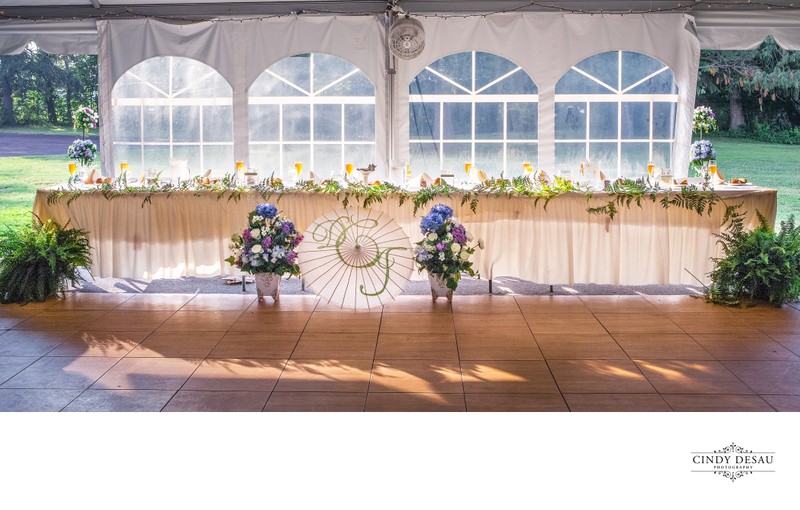 An example of a head table set up and ready for guests to enter. The floral displays were brought over from the ceremony site, the champagne is poured, and this couple had a paper umbrella theme with their initials.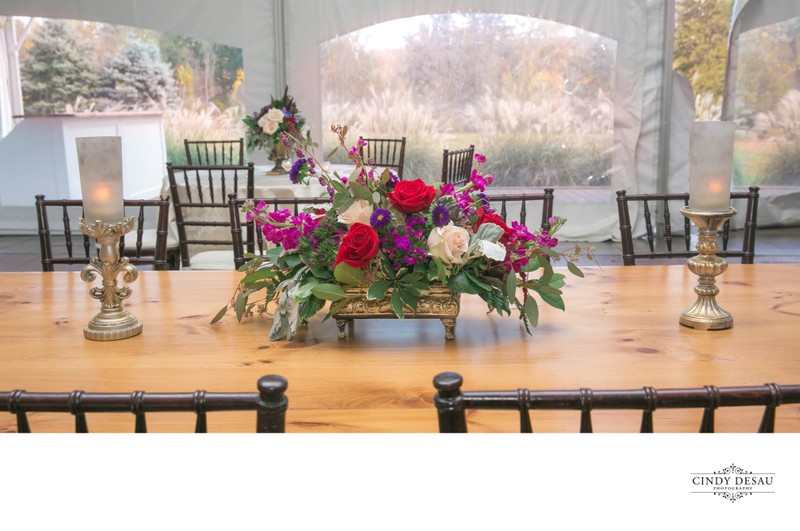 Farm tables are very popular with couples for their reception seating, and are a rental option at Pearl Buck.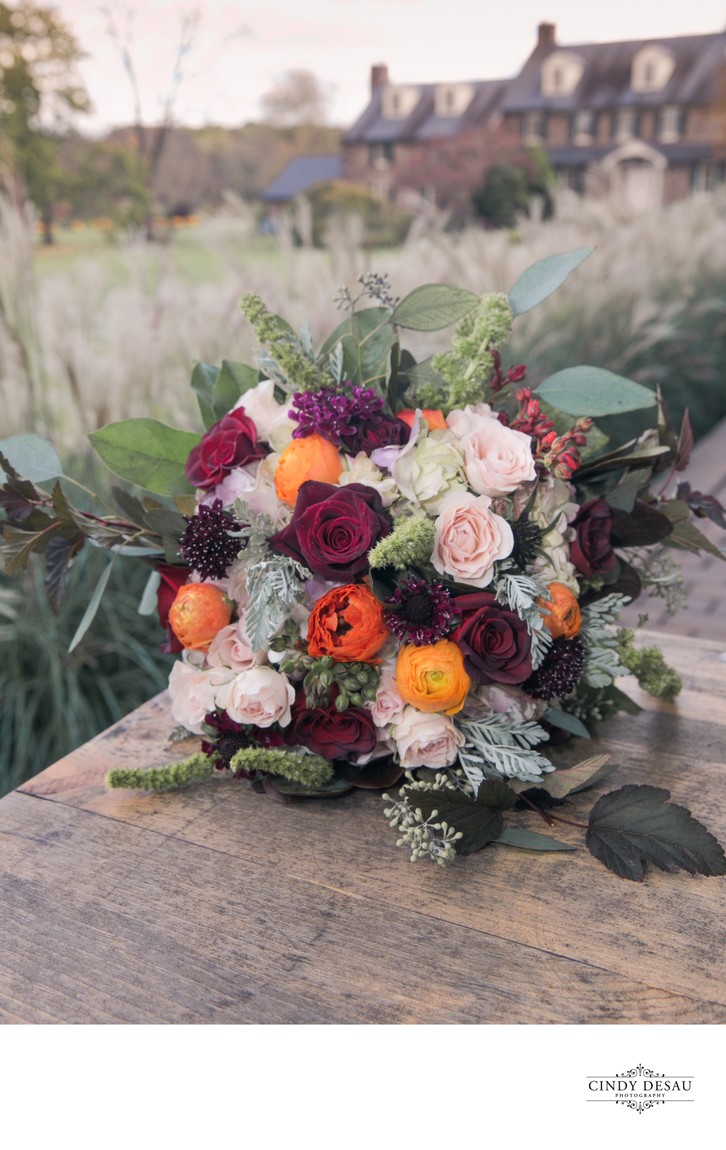 I thought this was a great spot for this bridal bouquet to show a different angle of Pearl Buck's Estate home and the wonderful soft grasses and open spaces that borders the property.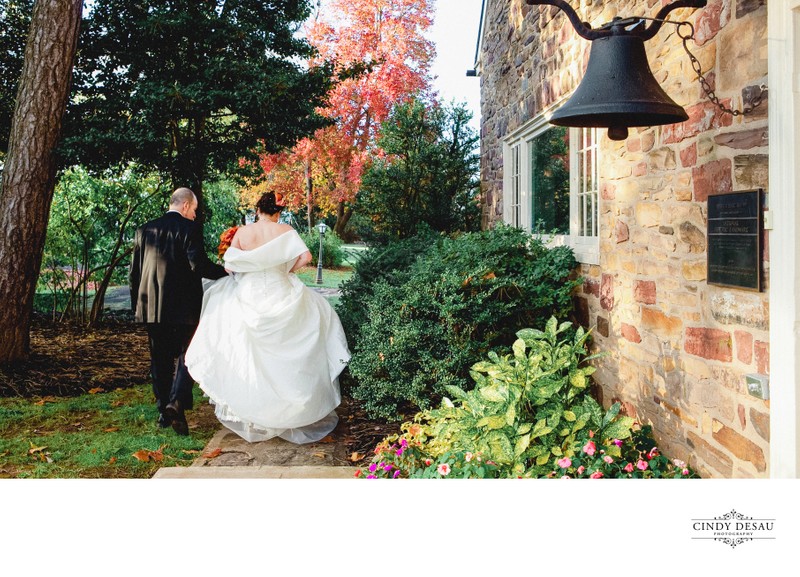 Anywhere you look at the Pearl Buck Estate is a chance to take another beautiful image. And candids!
Weddings at the Pearl Buck Estate are very child-friendly, and I've seen kids have a blast running around the grounds which surround the Estate Pavilion during the reception. Sunsets are also wonderful.
On the left, the band set up on the patio and plays during cocktail hour.
And you can always end your night with a sparkler send-off.